---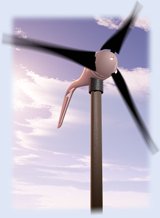 The Air 403 Marine Turbine $550.-
Rotor Diameter: 46" (1.14 meters)
Weight: 13 lbs (6 kg)
Start up wind speed: 7 mph (3 m/s)
Voltage: 12, 24 and 48 volts
Output: 400 watts at 28 mph (12.5 m/s)

Technical information in PDF format (7.71 MB) Requires Adobe Acrobat Reader. You can download Acrobat Reader FREE here.
The Air 403 Marine Turbine has some special features: it is made out of all marine grade components, has a powder coated exterior, and all stainless steel hardware. The AIR 403 is the best selling wind turbine in the world. Still priced about the same as a photovoltaic module, an AIR is capable of producing more than seven times the energy!
A design that changes the way the world looks at wind power! With a three year warranty, this wind generator is an excellent addition for battery charging in cloudy weather or the lower light conditions of winter. The units are light-weight (less than 14 lbs) and easy to install, suited for adding to your solar power system.
Features:
BLADES: The AIR's blades are made of a carbon fiber reinforced composite that twists as the turbine reaches its rated output. This twisting effect changes the shape of the blade, causing it to stall, limiting the RPM of the alternator protecting the AIR from damage in high winds.
ALTERNATOR: The AIR's brush-less alternator is optimized to match as close as possible to the cubic energy in the wind. It is constructed with Neodymium Iron Boron permanent magnets for superior performance and maintenance-free operation.
REGULATION & CONTROL ELECTRONICS: The electronics perform several functions to assure maximum output and safety for the user. The control electronics maintain a load on the alternator at all times to insure the turbine never over speeds, regardless of the condition of the battery. As the battery is charged, the sophisticated regulator periodically checks the line, correcting for voltage loss and monitoring charge rate. Once the battery has reached its optimum charge level, the regulator shuts the current off, preventing the battery from being overcharged and slowing the blades to a silent spin.
---
If you are looking for pond aeration windmills take a look at malibuwater.com they have a wide range of wind powered aeration products. They specialize in pond aeration but the products can be converted to many different uses.