---
What is a solar cell?
---
A solar cell is a kind of semiconductor device that takes advantage of the photo-voltaic effect, in which electricity is produced when the semiconductor's PN junction is irradiated. When light strikes a solar cell, part of it is reflected, part of it is absorbed, and part of it passes through the cell. The absorbed light excites the bound electrons into a higher energy state, making them free electrons. These free electrons move about in all directions within the crystal, leaving holes where the electrons used to be, and the holes also shift around the crystal. The electrons (-) collect in the N-layer, the holes (+) in the P-layer. When the outside circuit is closed, electricity flows.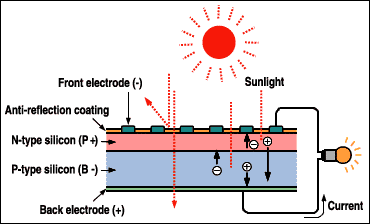 ---
Maintenance
Standard photovoltaic modules have a lifetime of over 20 years. In most cases, when installed in non-polluted sites, they are also easy to maintain. When solar panels are set at an angle of greater than 15 degrees, their surface is cleaned naturally by the rain, and loss of efficiency due to dust and other obstructions is minimal.
---
Multicrystal silicon solar cells
Kyocera is primarily active in R&D and production of solar cells used to generate electric power. We are working to create more efficient, lower-priced solar cells with a larger surface area by developing multicrystalline silicon solar cell technology.
There are three types of multicrystal photovoltaic modules,
each used for a different purpose.

---
Amorphous silicon solar cells
| | |
| --- | --- |
| | Amorphous silicon solar cells are cells containing non-crystalline silicon, which are produced using semiconductor techniques. Amorphous silicon solar cells are mostly used as power sources for devices requiring little electricity or as modulated light sensors. They are common in pocket calculators, watches, light detectors for cameras, and television and car navigator screens. |
---
WCubed
3775 Encinal Cyn
Malibu, CA 90265
Phone # (310) 589-9544
Fax # (310) 589-9714